AdCritter
The Small Business Ad Platform
Targeted TV. Internet. Billboards.
Big Ads. Smaller Budgets.
Until now, the most effective forms of advertising were out of reach for most businesses. TV commercials were expensive. Billboards had high minimums. Internet ads had limited targeting. Even just making ads was hard. AdCritter has changed all this.
Easy Ad Creation
AdCritter has millions of free ads and TV commercials to choose from for virtually every kind of business. Just choose your business type (over 1,000 available), select the ads and commercials you like, and tweak them to your taste. Have a business that's too unique for our pre-designed ads? Tell us about it and we'll make your ads for free.
Targeted TV
TV advertising has always been powerful. It used to be unaffordable because you had to advertise to the whole city. With Targeted TV, you can show your commercials only in the households most likely to buy from you. Target based on location, interests, buying behavior and more.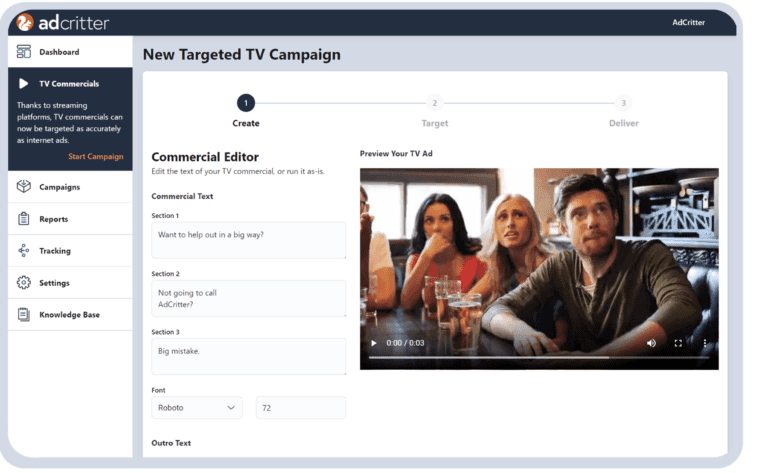 Digital Billboards
Imagine your business advertised on giant roadside billboards in your city. Think you can't afford it? Think again. With digital billboards, you no longer have to buy an entire billboard a month at a time. Buy as much or as little time as you want and build your brand across the city.
Programmatic Internet
Think the best way to advertise on the internet is on social media? It's not. Programmatic advertising allows you to run ads on all the top sites across the web with far more advanced targeting than on social media. It also costs less. Before AdCritter, programmatic advertising was only available to big advertisers with expensive software. Not anymore. Discover how powerful online advertising can be when you bust out of Google and Facebook.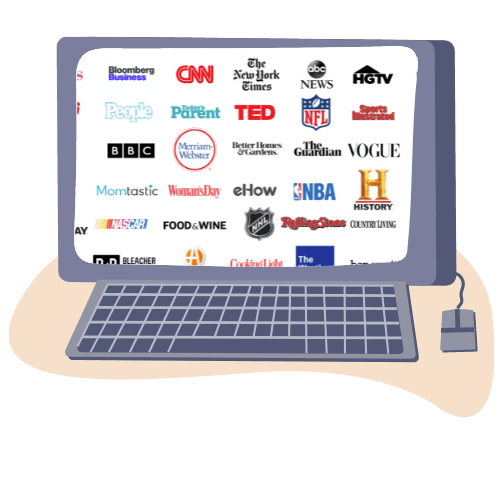 Three steps to beautiful campaigns that

work...
1. Create your ad

Browse our library of thousands of pre-designed ads and commercials. Virtually every kind of business is included. Don't find your business type on our list? We'll make your ads for free.

2. Target your audience

Use our simple but powerful targeting software to get your ads and commercials in front of exactly who you want. Better targeting = more sales for less money.

3. Deliver your ad

Choose the TV networks, website categories and billboard locations that make the most sense for your business. Our buying power gets your ads on the best properties at the lowest prices.
Trusted by thousands of businesses...
Over 2,000

Businesses advertise on AdCritter every day
2 million

Ads and commercials delivered daily
16 million

Pre-designed ads and commercials to choose from
What Our Users Are Saying
AdCritter is AMAZING for my business. Their platform does so much of the work for me that I can focus my time elsewhere and not worry.

Matt Carney, Smokin Thighs
AdCritter's ad targeting technology is a heck of a deal. Access to this level of tech in the past required that I spend $20k a month on ad campaigns. Now I get the tech I need for a fraction of the cost. Super easy to use too.

Brad Hill, BHC Real Estate
See How it Works
Understand the three-step process you'll use for every AdCritter campaign.
We'll start with Targeted TV.
Targeted TV